Press Release: Custom ADA Signage at the US Bank Stadium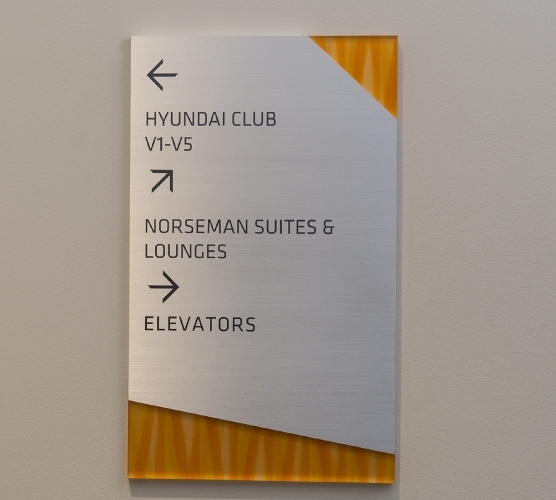 ENCOMPASS SIGNS SYSTEMS CUSTOM ADA SIGNAGE at the US BANK STADIUM – Minneapolis, MN
Golden Valley, MN – Encompass Sign Systems, Inc. manufactured 3,426 ADA-compliant and interior signs for the modernistic U.S. Bank Stadium in Minneapolis, home of the Minnesota Vikings. Encompass was chosen to produce the contemporary sign package largely because they employ a new-age technology for sign-making that allows for unprecedented branding. The technology is referred to by early-adopters in the design community as thermoforming or compression-molded signage.
Thermoforming technology yields a highly-durable, single-piece sign capable of incorporating brand-rich features. For the U.S. Bank Stadium project, Encompass produced a multi-layered, myriad pattern within the acrylic signage, in both purple and gold versions, to accentuate the brand of the Minnesota Vikings.
"Our Encompass Team has produced a number of brand-rich, interior sign packages featuring a wide variety of dimensional items such as perforated aluminum and natural grasses, however, the layered, myriad pattern we produced for the Vikings and U.S.Bank Stadium was unprecedented and ultra-cool. We were honored to have been selected to produce such a stunning sign package using our new-age thermoforming technology". – Phil Quattrocchi, President
Encompass Sign developed their thermoforming, compression molding process after two years of trial and error to develop nine distinct products. The US Bank Stadium project documented for the sign industry that highly-branded, thermoformed signs could be mass-produced, in a short time-frame, for a mega-sized Project like U.S. Bank Stadium.
As a wholesale company, Encompass Sign Systems partnered with national sign companies and experiential designers in 2016 to produce over 15,000 ADA signs for Healthcare, Educational, Stadium and Community environments. Encompass is slated to release two new Products in early 2017. Encompass Sign is a member of ISA, SEGD, FASTSIGNS, ARTS Community and is WBE-certified company.
To learn more about Encompass
Contact:
Encompass Sign Systems
Isabelle Gomez
2401 Nevada Ave. N | Golden Valley MN 55427
Ph: 855-672-2201
www.EncompassSign.com isabelleg@EncompassSign.com
About Encompass:
Encompass Sign Systems enables the integration of thermoformed ADA-compliant signage with European-based extruded Directional Systems. This combination of rare components yields a cohesive wayfinding system for facility projects of scope while streamlining the architectural and design challenges around integrating such a holistic solution. The ease with which architects and designers can specify an integrated wayfinding solution has led to rapid adoption of Encompass products. Encompass is one of only 23 thermoform sign-makers worldwide and is a wholesale provider to sign shops and designers throughout North America.
Photos by: Peter McCullough Photo